Welcome
I would like to welcome you to our website which will hopefully give you a flavour of the school as well as providing regularly updated information.
Ballycarry Primary is a rural community school in a beautiful setting. We aim to provide a caring ethos where pupils feel happy and valued. A recent inspection noted both the very high standards of pastoral care and teaching within the school.
We provide a wide range of sporting and musical activities both during and after school. These include football, table tennis, ju jitsu, swimming, monkeynastix, supernastix, singing tuition, violins, piano and guitar.
To assist busy parents we provide a breakfast club from 8:00am and an early drop-off facility at 8:30 am.
I hope you enjoy your visit to our website and if you have any questions or wish to experience our friendly school in person please feel free to contact us to arrange a visit.
Mrs G Trueick
Principal
Latest Photographs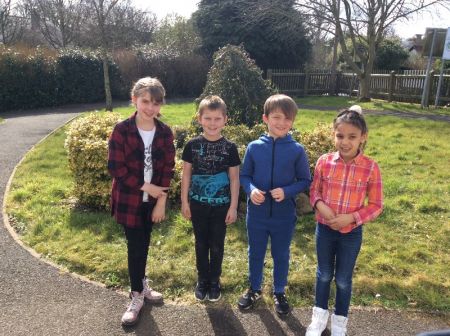 Upcoming Events...
Thursday, 26th April 2018
A Mile a Day (Sponsored event in aid of school funds)
Friday, 27th April 2018
A Mile a Day (Sponsored event in aid of school funds)
Monday, 30th April 2018
Carrickfergus Speech and Drama Week (9.30am session for P2 & P5 pupils taking part. 2.00pm session for P7 pupils talking part.)
Mid & East Antrim in Bloom Trip to Carnfunnock Country Park P3-P7 pupils (9.15-11.30am)
Tuesday, 1st May 2018
Carrickfergus Speech and Drama Week
Sport's Day (10.00am (weather permitting of course!!) If on school will finish at 12.15pm. Dinners available for those who wish.)
Wednesday, 2nd May 2018
Carrickfergus Speech and Drama Week
Thursday, 3rd May 2018
Carrickfergus Speech and Drama Week (9.30am session for P3 pupils taking part. 2.00pm session for P4 pupils taking part.)
Friday, 4th May 2018
Carrickfergus Speech and Drama Week
Monday, 7th May 2018
May Day Bank Holiday (School closed for all)
Tuesday, 8th May 2018
Revision Week
Ballycarry Primary School, Hillhead Road, Ballycarry, Carrickfergus BT38 9HE | Phone: 028 9335 3706